Advanced Dental Technology – Lutz, FL
We Invest In Your Care
Having treated dental patients in the area for over 10 years, you can rely on Dr. Tehrani to look after all your dental needs. Our team is highly experienced and we do not underestimate the power of advanced dental technology in Lutz to complement our dental services. It is of the utmost importance to use the latest technology to ensure you receive the most accurate and comfortable treatment available for your needs. This includes providing you with the proper education around your treatment plan so you can understand the available options and choose the one that is best for you — below are some of the tools we use to provide exceptional care here at Allure Dental Boutique.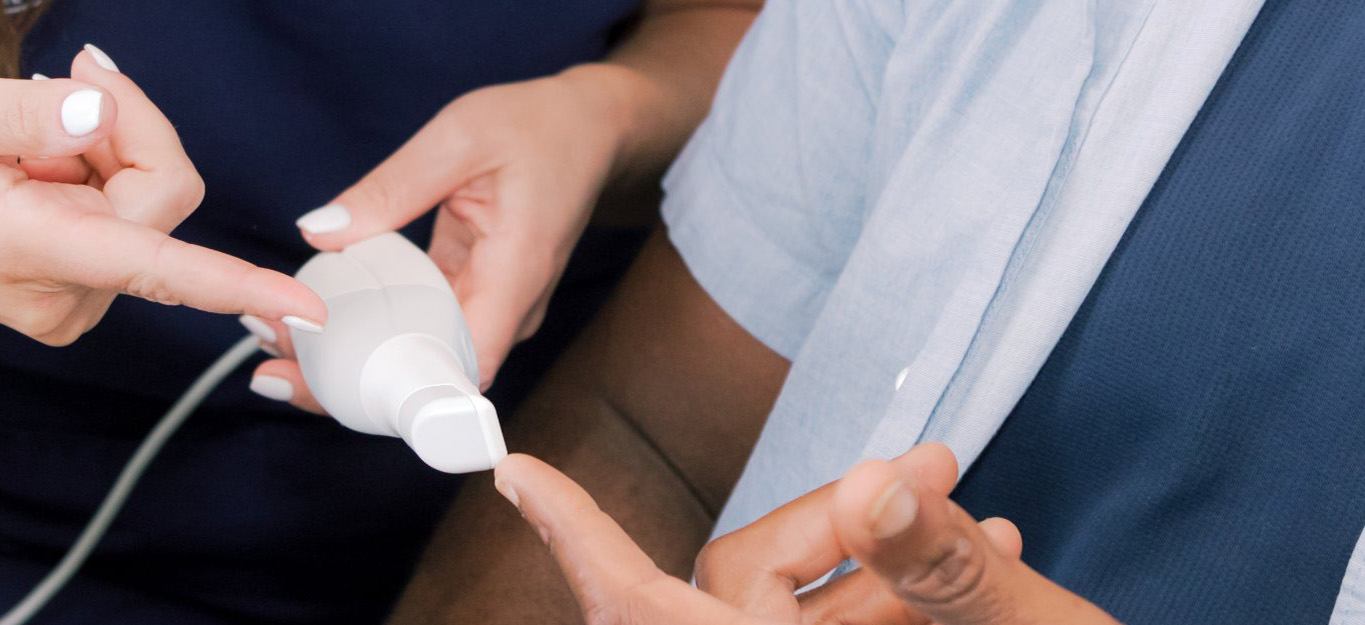 iTero Element 3D Scanner
What is the iTero Scanner? The iTero scanner digitally captures the structure of your teeth and gums using safe optical and laser technology. The 3D scans are particularly useful for treatments like Invisalign clear aligners, veneers, crowns, and bridges.
What Should You Expect from Your Dental Scan at Allure Dental Boutique? The iTero scanner is a hand-held wand that our team uses to scan the inside of your mouth. It is painless and only takes around two to three minutes to complete and will provide us with a 3D model of your mouth so we can better understand your dental needs.
What Are the Benefits of iTero Scanning Technology?
Transparency — The iTero scanner allows us to use your scan to show you your dental treatment needs. Before you decide to go ahead with a treatment, you will be able to see the expected results so you can decide if the treatment proposal is the right decision for you.
Speed — With iTero scanning, you will have a much faster appointment time since we will not have to take molds of your teeth. The iTero scanner takes minutes.
Comfort — No more goopy mess to deal with or discomfort while taking impressions of your teeth.
Better Results — The accuracy of the iTero scans is far superior to impressions and provides us with a far more detailed visual of your teeth and soft tissue.
Safe — The iTero scanner is radiation-free which means it can be safely used for everyone, even for pregnant women.
Nomad Digital Dental X-Rays
Intraoral X-rays (X-rays taken from inside of the mouth) are an essential part of your dental care. However, conventional bitewing X-rays are uncomfortable and time-consuming. At Allure Dental Boutique, we use the NOMAD handheld x-ray device in conjunction with digital sensors to take comfortable X-rays in half the time with no drooling or holding unwieldy bitewings in your mouth. The images show up instantly on our screen and the operator does not even have to leave the room. The device emits significantly less radiation than standard x-rays and since it is accurate, there's no need for retakes, further reducing your exposure.
Small, handheld device - The NOMAD X-ray machine is portable and easy to maneuver. We can get all the necessary angles and thanks to its built-in shield, the person taking the x-rays is protected and does not need to leave the room.
High-quality images - NOMAD relies on the latest X-ray technology to take detailed, high-quality, digital radiographs. This means improved diagnostics and fewer retakes.
Super Speed - With the NOMAD, we can snap X-rays almost twice as fast as we can with a conventional machine. There is no waiting for film to be developed or running back and forth, saving you time.
Safe and Comfortable - You are exposed to significantly less radiation with NOMAD than you are with regular X-rays. Because of the speed and the use of digital sensors, the experience is also much more comfortable.
3Shape TRIOS® Intraoral Scanner
The TRIOS scanner allows our team to capture high-definition digital video and images of your teeth without the mess of traditional impressions. Patients enjoy a more comfortable, convenient, and better experience resulting in more precise modeling.
Acteon X-Mind Prime CBCT
Compared to standard x-rays, a dental CBCT scan is a much more detailed and effective method of capturing information about your dental health. CBCT technology also uses less radiation and requires fewer scans to see the different views and angles of your mouth. Unlike traditional dental x-rays, our CBCT uses a special kind of technology to generate three-dimensional (3-D) images of dental structures, soft tissues, nerve paths, and bone in the craniofacial region in a single scan.
A healthy smile starts with a foundation of healthy bones and gums. Our team is dedicated to helping you build and maintain that foundation. A CBCT scan is an important part of providing high-quality care and helping you achieve total dental health, which is our standard.
Why are CBCT scans necessary? Since a CBCT scan shows all your bones, nerves, and soft tissues in high detail, this allows us to diagnose your health and plan our treatment approach before we even begin a procedure. Notably, this technology is a key step in planning and performing successful dental implant surgery. A CBCT scan help us:
Provide accurate measurements, including the shape and dimensions of your jaw
Identify gum issues
Detect lesions that may indicate serious disease
Locate the origin of any pain
Evaluate your sinuses, nasal cavity, and nerve canal
Benefits to getting a CBCT scan:
Better image quality and accuracy
Provides comprehensive information about your oral health
Comfortable and quick experience
A lower dose of radiation
CBCT scans help our team:
Accurately design the proper bite, reducing the risk of misaligned implants
Measure and localize the available jawbone, location of the maxillary sinus, and sensory nerves
Select the right size and length of implant for optimal stability, safety, and integration
Intraoral Camera
An intraoral camera is just one of the many dental innovations used in assessing and diagnosing oral health problems. It enables you and your dentist to have an intraoral close-up analysis of the different structures inside your mouth. An intraoral camera has a built-in light source which allows the dentist and the patient to see the external structures of the teeth, the gums, and the buccal cavity. With the illumination, an intraoral camera is used to take videos, and the still camera is used to capture the image of the condition of the teeth, which helps in the assessment and diagnosis of plaque formation, dental cavities, gum diseases, chipped or cracked teeth, broken dental fillings, and other oral conditions.
The main goal in the use of intraoral cameras is to assess and diagnose oral health problems. The uses of intraoral camera include:
It is used in patient information. Most dental hygienists and dentists use intraoral cameras to educate their patient about his/her oral health. With the use of the camera, the patient can see the condition of his/her teeth and helps the dentist in discussing the disease condition of the teeth and how it could be prevented.
It helps in educating the patient to undergo dental treatments that would help restore and save teeth or gums from destruction. The videos and photos taken by the camera will help the dentist in explaining the condition of the teeth or gums and how the proposed dental treatment will help manage the condition.
The photos and videos taken by the intraoral camera will serve as a basis of the oral health condition of the patient. With the photos in file, the dentist will be able to assess whether dental treatments in the past have indeed made a positive progression in the dental health of the patient. The photos can also be sent to your insurance company if it is needed.