Invisalign Clear Aligners – Lutz, FL
Beautifully Straight Smiles
Imagine a beautifully straight smile without the restrictions and complications of brackets and wires all over your teeth. That's what makes Invisalign® one of dentistry's most popular treatment options.
See What Invisalign Can Do For You!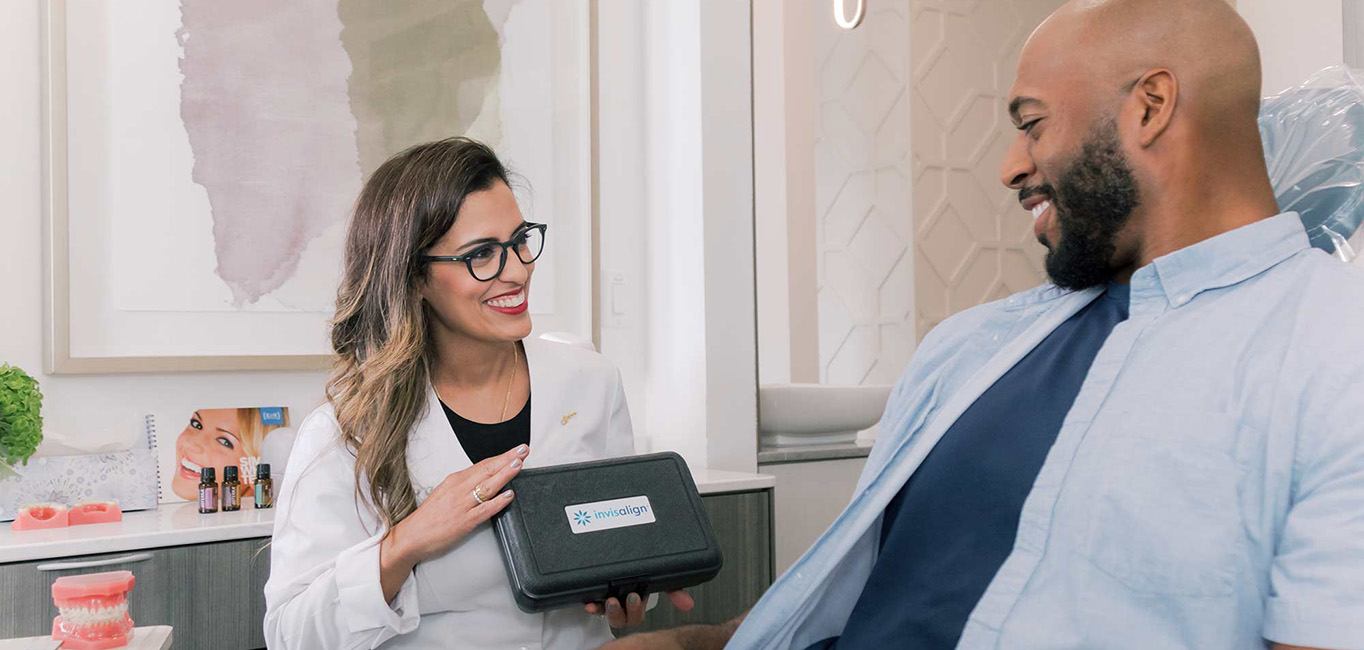 Benefits of Invisalign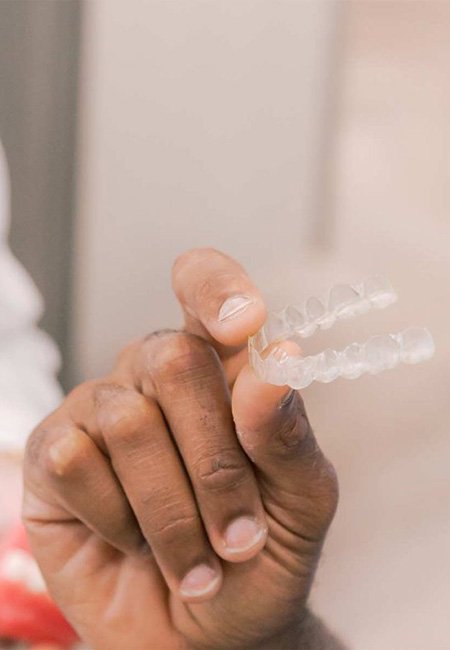 Invisalign clear aligners in Lutz are a simple, effective alternative to braces, offering many amazing benefits.
It's comfortable: No painful wires & brackets, and no goopy impressions to get started.
It's convenient: Live your life uninterrupted – you can eat what you want since these aligners are removable and discreet.
It's quick: Planning for your wedding or an important event? Invisalign aligners can transform your smile before your big day.
No need to hide your smile. Book a free Invisalign consultation today.
Schedule a Complimentary Consultation
Why Choose Invisalign at Allure Dental Boutique?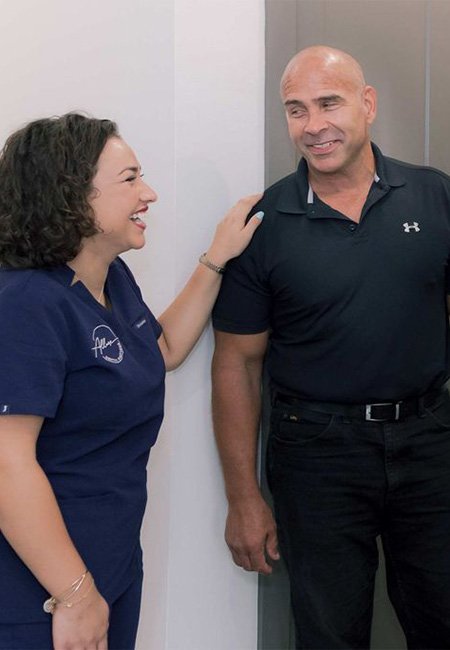 Our team wants you to love your smile for life.
Top Provider
Dr. Shabnam Tehrani and her team have taken advanced Invisalign courses from the top doctors in the country.
Trusted Success
We've completed many Invisalign cases and are rated a Silver+ Provider from the Invisalign brand.
Efficient Results
95% of our Invisalign patients complete treatment in 6-8 months.
Competitive Pricing
Many patients say our Invisalign treatment prices are more affordable than other dentists or orthodontists they've evaluated. Get Your Straighter Smile Without Breaking The Bank
Insurance Accepted
We'll verify and file your dental insurance for orthodontic benefits
We see between $1500-3000 in benefits
Covers a large portion of treatment cost
Fit For Your Budget
$0 down, and lock in low monthly payments
Third-party financing options through Care Credit (Add Link) and interest free in-house financing. (Ask our team for details)
Free up your cash-flow for other expenses
$800 of Freebies
FREE in-home whitening kit ($300 value)
4 sets of Vivera retainers ($500 value)
Give your smile even more shine and keep it that way!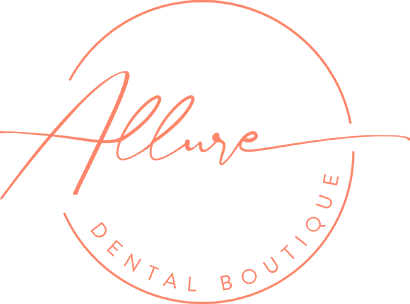 Your Invisalign® Journey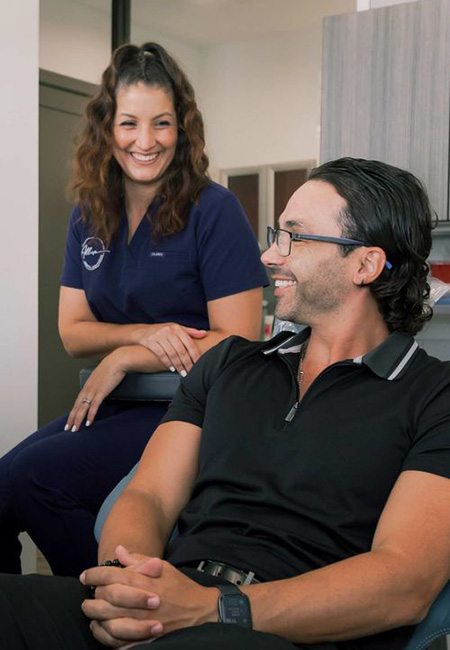 Get started in as little as 2 weeks from your initial consultation:
Step 1: Scan
We'll build a 3D model of your teeth with our iTero intraoral scanner. No need for those goopy, uncomfortable impressions you may have experienced in the past.
Step 2: Preview
You'll see a digital preview of your new smile. This is done through the iTero scanner to generate a before-and-after preview of your potential new smile.
Step 3: Plan
We create your custom treatment plan using advanced treatment planning software. From there, custom-molded, transparent aligners are created for you.
Step 4: Start
We receive the custom aligners back in about 2 weeks and bring you in for another appointment to get you started on your smile transformation.
Frequently Asked Questions
How long do I have to wear Invisalign aligners?
Each person's treatment length depends on their unique alignment issues and our customized treatment plan. With many Invisalign cases under our belt, most patients finish treatment in as little as 6-8 months.
Is Invisalign treatment right for me?
Invisalign treatment can be a great solution for adults and teens looking for a virtually invisible method to improve their smile. Technological advancements make it possible for Invisalign aligners to fix nearly all common teeth-straightening and bite issues, from simple to complex — all without interrupting your busy life. We offer free consultations, so book an appointment and we can let you know.
Does dental insurance cover Invisalign treatment?
Yes! Most dental insurance plans offer orthodontic coverage, regardless of patient age. We have seen dental insurance companies cover a good portion of Invisalign treatment. Our team at Allure Dental Boutique proactively reaches out to your dental insurance company to verify your benefits and inform you of your coverage prior to starting treatment.
How much does Invisalign treatment cost?
Cost can vary slightly based on your case's complexity. However, we pride ourselves on having competitive pricing for the Tampa Bay area. Our team will discuss the costs of your Invisalign treatment before starting to ensure you have the knowledge you need to make this life-improving decision.
Cost typically isn't a factor for our patients who are considering Invisalign treatment, since we find ways to make it fit into their budget by applying for dental insurance benefits, utilizing their HSA & FSA dollars, and offering third-party financing solutions that allow them to put $0 down and have low monthly payments and in-house payment plans.
Which is better: Invisalign aligners or braces?
With Invisalign treatment being able to treat the vast majority of misalignment cases, the option of Invisalign has been a no-brainer for our patients. Patients love the convenience of having us do all their dental work in one place – no need to go find another practice or specialist. Plus, Invisalign aligners are so discreet that nearly no one sees them, and you can take them out when needed.
Does Invisalign treatment hurt?
During the first day that you use each set of Invisalign aligners, you may feel some discomfort; Don't worry, that's normal. That's because the aligner is gently moving your teeth. In most cases, the discomfort passes within a day.
What does Invisalign Provider mean?
To help patients know which dentists have taken the time to train and learn about their technology, Invisalign came up with the provider system. Invisalign designates providers that have helped hundreds of patients achieve gorgeous smiles and lasting results with Invisalign.
When you choose an Invisalign Provider, you can trust that the dentist has received extensive training focused on this specific treatment. They also have countless hours of real-world experience, helping people correct a variety of orthodontic issues ranging from minor crookedness to misaligned bites. Thanks to this experience, they're able to help more patients using Invisalign. In contrast, a less experienced dentist might force a patient to wear metal braces if a problem seems "too complicated."
Invisalign Providers know how to achieve your desired results with the smallest number of trays possible, which can make treatment much faster and more affordable.
When you partner with an Invisalign Provider, you'll also enjoy peace of mind throughout the process. You can trust that they have already helped hundreds of patients achieve their smile goals both discreetly and comfortably, and they're ready to do the exact same for you.